How To FINALLY Be Heard
Cardio University #2
I know how you might feel at times. You have a powerful message. You genuinely want to help people. But you just can't get any traction. It seems like no one is listening.
During this Cardio University session, I want to share what I believe you must do to finally be heard.
I also have a confession to make. I've been holding back on you. I haven't been talking about the things in life that I'm obsessed with.
TWO PHONE CALLS A DAY
I'm committed to helping you get past the motivational B.S.! I want you to TAKE ACTION. Every single day you see me broadcasting Cardio University, I will take two phone calls to help you personally. 10 minutes . . . whatever it takes. Do you feel lucky? Then call me right now at (213)973-8790. You can also reach me on Skype: skiplacour.
CARDIO UNIVERSITY OBJECTIVES:
We must constantly introduce ourselves to new thoughts and ideas to get to the next level. We must steal time.
Cardio University, every single day, is an awesome way for us to be healthy, connect, stay focused on what we want, and introduce ourselves to new thoughts and ideas.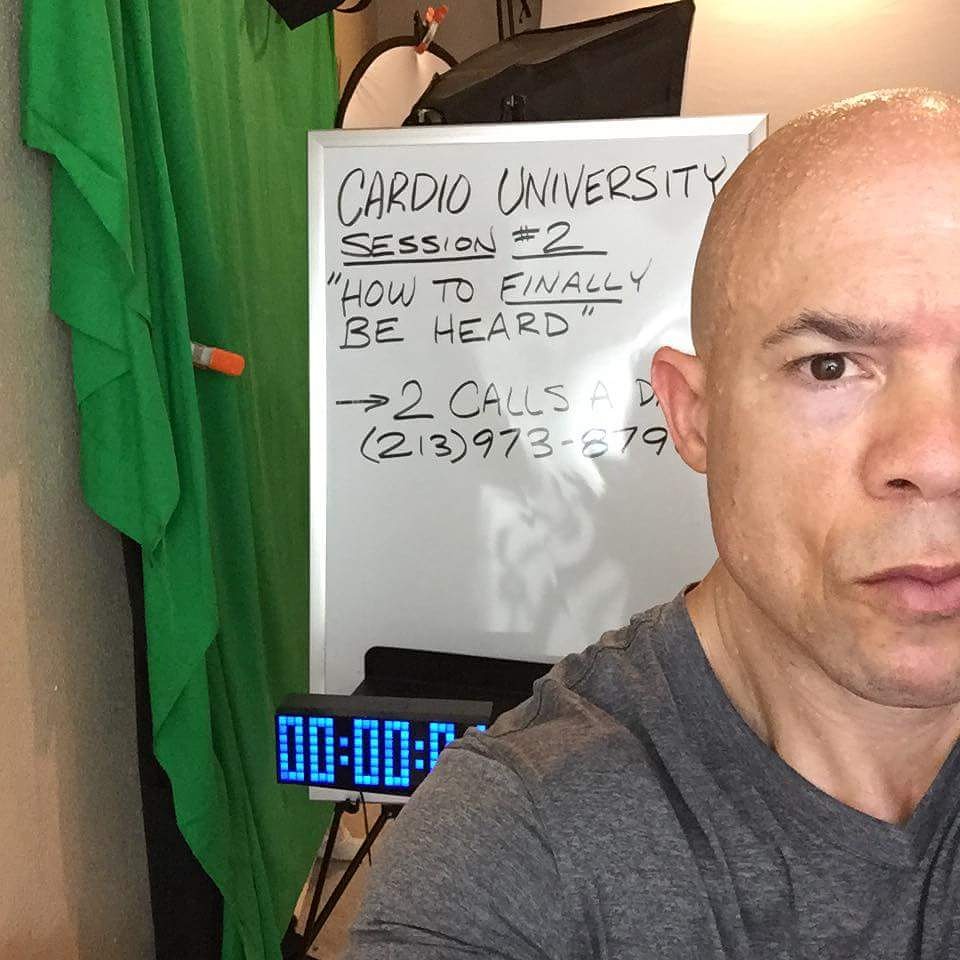 Today's "Cardio University" Takeways
This is what I pulled from my one-hour session reading/cardio today:
"People will do anything for those who encourage their dreams, justify their failures, allay their fears, confirm their suspicions, and help them throw rocks at their enemies."
Powerful stuff. My values limit me to ethically only do the first one: "Encourage their dreams." I have some stiff competition for your attention from a ton of other people who GLADLY do the rest to you. They pound that stuff into your heads. I have to figure this out.
How about you?
I encourage you to join me for one hour a day of growth.
See you tomorrow morning.
Do You Have Questions? Concerns?
Email me directly at skip@skiplacour.com or just pick up the phone and call me at (213)973-8790.
<script> (function(i,s,o,g,r,a,m){i['GoogleAnalyticsObject']=r;i[r]=i[r]||function(){ (i[r].q=i[r].q||[]).push(arguments)},i[r].l=1*new Date();a=s.createElement(o), m=s.getElementsByTagName(o)[0];a.async=1;a.src=g;m.parentNode.insertBefore(a,m) })(window,document,'script','https://www.google-analytics.com/analytics.js','ga'); ga('create', 'UA-52997290-9', 'auto'); ga('send', 'pageview'); </script>